Upcoming Biznet Breakfasts
Tues 3 March: Justine Linley, Chief Executive Officer City of Ballarat
Tues 7 April: Ballarat Business Confidence Project - Findings
Tues 5 May: Tim Bone 2019 Masterchef Contestant
Tues 2 June: Dr Michael Akindeju, Ballarat African Association
---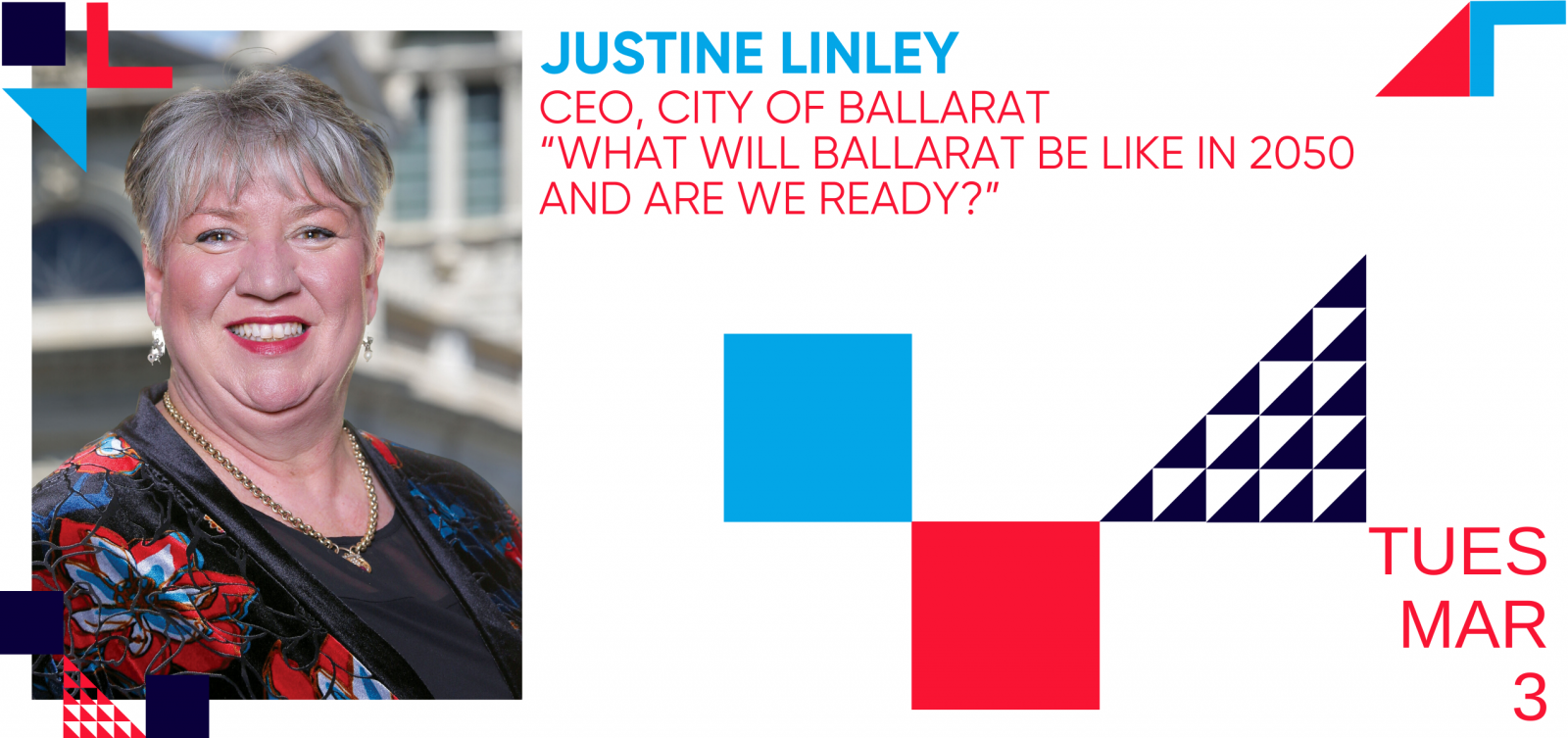 Guest Speaker: Justine Linley CEO City of Ballarat
Members: $25.00
Non Members: $35.00
As we enter the new Roaring 20's, we ask the question "What will Ballarat be like in 2050 and are we ready?"
Justine will talk about the three core strategic discussions Council is now contemplating for our future prosperity – Ballarat as an Integrated City, a Design-led City, a Clever City - and what this means for business growth and innovation.
Justine commenced as Chief Executive Officer of the City of Ballarat in May 2016. Justine was previously CEO at Northern Grampians Shire Council following a diverse career in industry development, higher education and regional development. As Grampians Regional Director, Regional Development Victoria in the mid-2000s Justine worked with 11 councils, businesses and organisations from Bacchus Marsh to the South Australian border. Justine is committed to regional co-operation and planning. She is an active member of Central Highlands Councils Victoria, , Regional Cities Victoria, Regional Capitals Australia, Local Government Chief Officers Group, the former President of LGPro and former Treasurer of Economic Development Association of Victoria.
Date: Tuesday 3 March
Time: 7am - 8.45am
Venue: Ballarat Greyhound Racing Club, Corner Rubicon & Sutton Streets
---
Ballarat Business Confidence Project – Findings
Members: $25.00
Non Members: $35.00
Dr Moulik Zaveri and Dr Damian Morgan will present the findings from the Ballarat Business Confidence Survey. The purpose of this study was to better understand business owners/managers' views and perceptions concerning the business environment in Ballarat. This research will benefit businesses and the local community. The knowledge provided by this report will assist future planning for business and government of all levels.
Date: Tuesday 7 April
Time: 7am - 8.45am
Venue: North Ballarat Sports Club, 725 Creswick Rd
---
Guest Speaker: Tim Bone 2019 Masterchef Contestant
Members: $25.00
Non Members: $35.00
MasterChef Australia Semi-Finalist Tim Bone quickly became one of MasterChef's popular contestants with his flair for food and down-to-earth personality, making it into the top four. Inspired by Jamie Oliver, Stephanie Alexander, Maggie Beer and the late Anthony Bourdain, Tim admits he enjoys cooking with big, hearty flavours and creating good, honest food.
Tim moved to Ballarat to study at Federation Uni in 2005 and started working at Yuille Park Community College in 2008, helping children with special needs. He also ran after school programs for under privileged kids several nights a week, and then went on to run the community garden and café program. Whilst this was a role he loved, MasterChef gave him the support and confidence he needed to go out on his own and make food his career. He has launched his gourmet toasted sandwich market stall, Tim's Toasties, and is currently doing pop up restaurants with local businesses in Ballarat such as the Hydrant, Higher Society and The PWTN, supporting and showcasing local producers as much as possible. Tim is looking forward to meeting like minded foodies and people in business, and selling his delicious toasties to the people of Ballarat.
Date: Tuesday 5 May
Time: 7am - 8.45am
Venue: RACV Goldfields Resort, 1500 Midland Hwy
---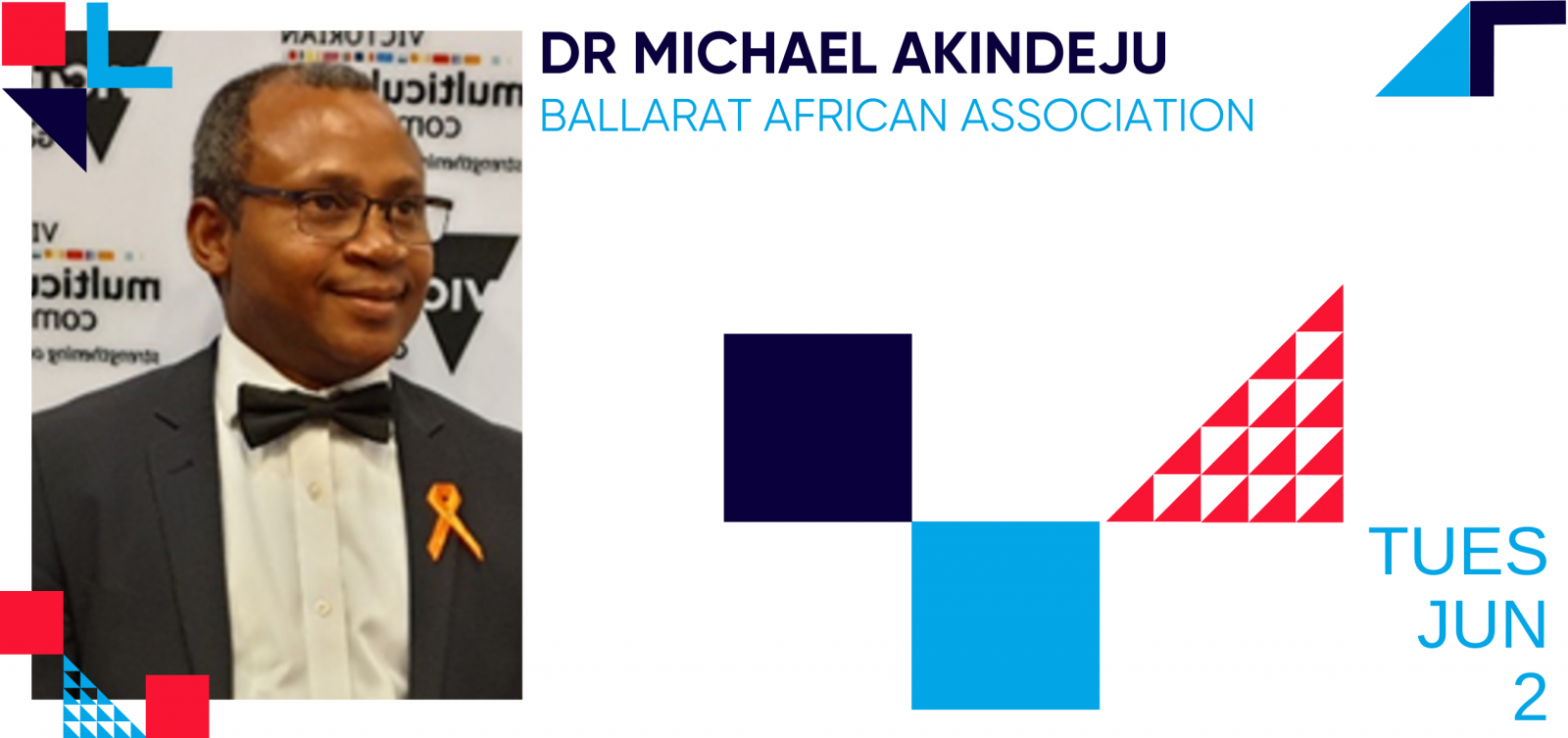 Guest Speaker: Dr Michael Akindeju, Ballarat African Association
Members: $25.00
Non Members: $35.00
Michael is an avid innovator, an apt multidiscipline visionary, Chartered and Registered Professional Engineer, and a Certified Business Architect with background and cross boundary experiences—in Chemical Engineering, Process Engineering, Management, Public Sector, Policing, Banking and Finance—geared towards adding values to stakeholders. He is the Principal Process Engineering Consultant and Director at MKPro Group.
Michael is the current President of the Ballarat African Association. He served as board member and Treasurer of the African Think Tank between 2015 and 2017; a member of the Victoria African Australian Leadership Forum; and a member of the Regional Advisory Council advising the Government on issues relating to Multiculturalism in Victoria, Australia. Michael migrated to Australia in 2006 after his initial training and education in Nigeria. He is married with children
Michael will be joined by panelists -
Dr Obiyo Nwigwe, Medical
Ms Catherine Macharia, Psychology
Ms Deruka Dekuek, Social Services
Date: Tuesday 2 June
Time: 7am - 8.45am
Venue: Craig's Royal Hotel, 10 Lydiard St Sth