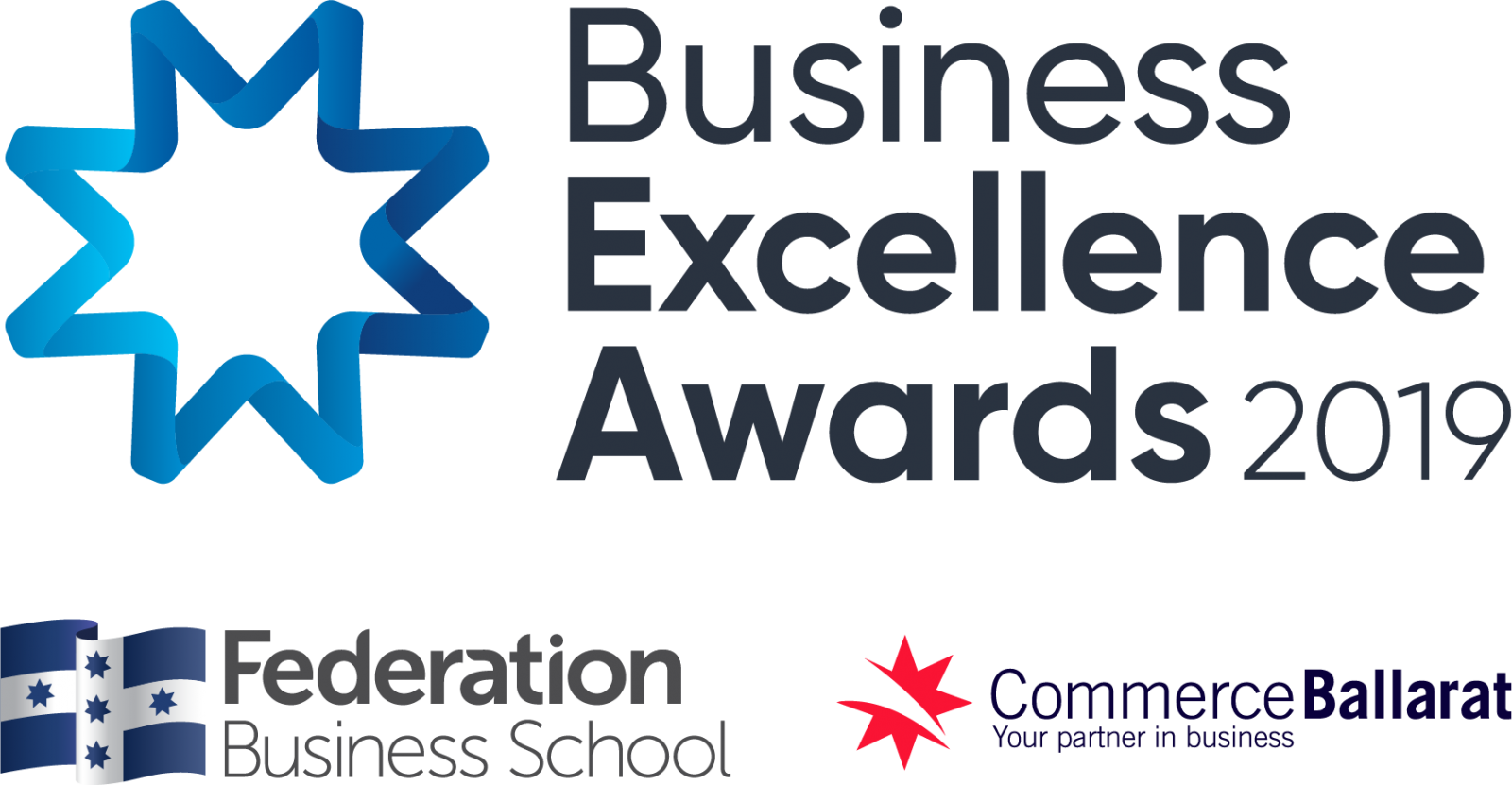 ENTRY GUIDELINES
Eligibility
Whether you are a sole trader or large business, have one employee or 100, you are eligible to enter up to two categories in the 2019 Federation Business School Commerce Ballarat Business Excellence Awards. You may choose any two categories that you feel are most appropriate whether you were nominated in them or not. (Note: BGT Jobs + Training Young Business Person of the Year Award may be entered in addition to the two traditional categories).
These awards cater to businesses located within Ballarat and the surrounding district, with the exception of the Regional Development Australia Grampians Eat Drink West Award which is open to all businesses in the RDA Grampians region.
How to Enter
(
all categories except BGT Jobs + Training Young Business Person of the Year Award
)
You can download a MS Word fillable application form by clicking on the links below. Simply download/save the document to your computer, answer the questions, print your completed application, sign and deliver! Please note: emailed applications will not be accepted.
Complete the entry form and attach to the front of both copies of your application (see No.4).
Address each of the questions in the general questionnaire.
Address each of the category-specific questions – for example, the Trade Business Award.
Complete your application on A4-sized paper, printed on one side only. Final applications should not exceed 11 pages:

• Entry form (one page)
• Business Summary (one page)
• General and category-specific questions (five pages)
• Supplementary material (four pages)

Staple the entry form to the top left-hand corner. (Do not bind your application or place it in a presentation folder).
Provide supplementary material. For instance, publicity in the media, customer testimonials, acknowledgement from community groups. Limit this to four pages (in addition to the five pages of your application).
Provide two copies of your application with a signed entry form attached to each.
Ensure the font in your application is either Calibri or Arial minimum size 11.
Post or deliver your entry to:
Commerce Ballarat
"Business Awards Application"
27 Doveton St Nth
Ballarat VIC 3350
N.B: Retain a copy of your entry for future reference as all entries will be destroyed after judging
Download Sample Application (note: 2019 application will vary)
Special "Early Bird" Competition!
Submit your application by 5pm Tuesday 4 June 2019 for your chance to win a $1,000 print advertising package donated by The Ballarat Times News Group.
Application Information Sessions
Need help with your application? Attend a free application information session! The sessions will include assistance in addressing the criteria and information on what the judges will be looking for (Please note that these sessions are all the same and you will only need to attend one).
Dates & Times
Wed 1 May 2019
Application Information Session (5.45pm–6.45pm)
Quest Ballarat, 7 Dawson Street Nth
Thu 2 May 2019
Regional Development Australia – Grampians Eat Drink West Award Information Session (2.30pm – 3.30pm)
Quest Ballarat, 7 Dawson Street Nth
* Please note if you are entering the Eat Drink West Award category and cannot attend the above time the other sessions being held will still deliver the relevant information.
Tue 7 May 2019
Application Information Session (10am–11am)
Quest Ballarat, 7 Dawson Street Nth
Wed 15 May 2019
Application Information Session (2pm-3pm)
Quest Ballarat, 7 Dawson Street Nth
Application Mentoring Sessions
Limited numbers of one-hour one-on-one application mentoring sessions will be offered as an opportunity to receive feedback on your completed application prior to its submission.
To book a place in an application information session or application mentoring session, email rsvp@commerceballarat.com.au or phone 5333 3233. Registrations for both are essential.
It is interesting to note that 95% of the 2018 finalists had either attended an application information session, participated in a one-on-one mentoring session or had entered previously.
Questions
For further information or assistance with your application, phone Commerce Ballarat on 5333 3233.
Fillable Application Forms
To download a fillable Microsoft Word application form document click on the text or image tile relating to the category you wish to apply, this will open a new tab, follow the instructions to save this file to your computer to allow for editing (if this does not occur please check your pop-up blocker settings). Ensure you read all information provided on the first two pages.
Please note: Emailed applications will not be accepted.
BGT Jobs + Training - Young Business Person of the Year Award
---

Ballarat Community Health - Customer Service Award
---

Federation Business School - Creative Industries Business Award
---

Ballarat Foundation - Community Impact Award
---

Nevett Ford Lawyers - Events and Attractions Business Award
---

Ballarat Technology Park - Innovation Award
---

Mercure Ballarat Hotel and Convention Centre - Franchise/Buying Group Business Award
---

Ballarat Times News Group - Health and Wellbeing Business Award
---

Power FM - Small Business Award
---

Ballarat Volkswagen - Professional Service Business Award
---

Regional Development Australia - Grampians - Eat Drink West Award
---

Central Highlands Water - Trade Business Award
---

The WIN Network - New and Emerging Business Award
---

City of Ballarat - Restaurants, Cafes and Pubs Business Award
---